You bet horses? Let me help with some Winners
I've been handicapping thoroughbred horse races and picking winners at Saratoga and beyond for 30 years. Grass racing is my true specialty, I've developed my own style of finding Double Digit Turf Winners. .
Recent Double Digit Winners
Derby Day Jewel $56.00
Holly Blame $27.60
Cat's Astray $25.00
America's Tale $24.40
Mr French $22.20
Solar Kitten $22.20
Bourbon Resolution $21.80
Turf racing is the most profitable and rewarding surface for your betting investment. I give you constant value with my grass selections ~ as favorites don't win as often as they do on the dirt .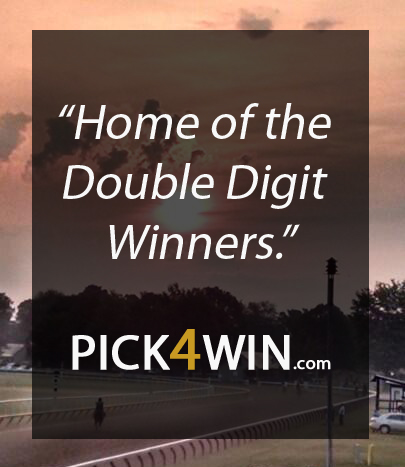 Are you using the Best Turf Selections available? Become a Member now!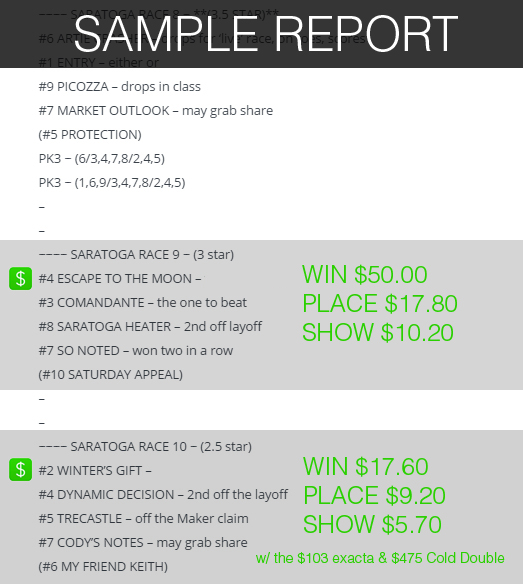 Pick4Win Reports
Pick4win Players had a Life Changing score on Kentucky Derby Day in 2020. I tabbed the $76,653 Late PK5 on a $48 ticket. It rained money. Three Double Digit Top Pick Winners helped us make the score of a lifetime including Beau Recall $18.80, Sir Alfred James $18.60 and Best Bet was Bells' The One $10.40, our single in that $76,653 payday
Pick4win Members get:, The BEST Turf Selections and Pick5 Pick4 and Pick3 wagering strategies to maximize winning opportunities see example report.
"ZJ, wow, that's one of the best calls I've ever seen, outstanding" said L Gordon Camps after my 2014 BC Mile selection Karakontie won paying $62.00 $33.00 & $19.30 with the $663.40 exacta.
From Paulie Harseim after the same race "From my worst day to my BEST day in two races, thanks ZJ".
Follow Pick4Win.com on Twitter (@pick4win) www.twitter.com/pick4win for up to the minute selections, late scratches, weather updates and all kinds of opinions. To read more about me, Zenyatta John, my horse racing betting adventures, race day recaps and track-side stories are on my blog Hoof Prints and Horse Play, which is linked to the Homepage. That same link brings you FREE Past Performances too plus lots of useful racing links.